Only a few movies are capable of driving you completely to their world. This is the list of 10 underrated hidden gems, beyond Imagination Hollywood movies that were commercially very successful and won hearth of audiences.
If want to feel something different and get completely driven into the movie then you should watch these movies once in your life. These are the most underrated die-hard hardcore movies you will surely enjoy.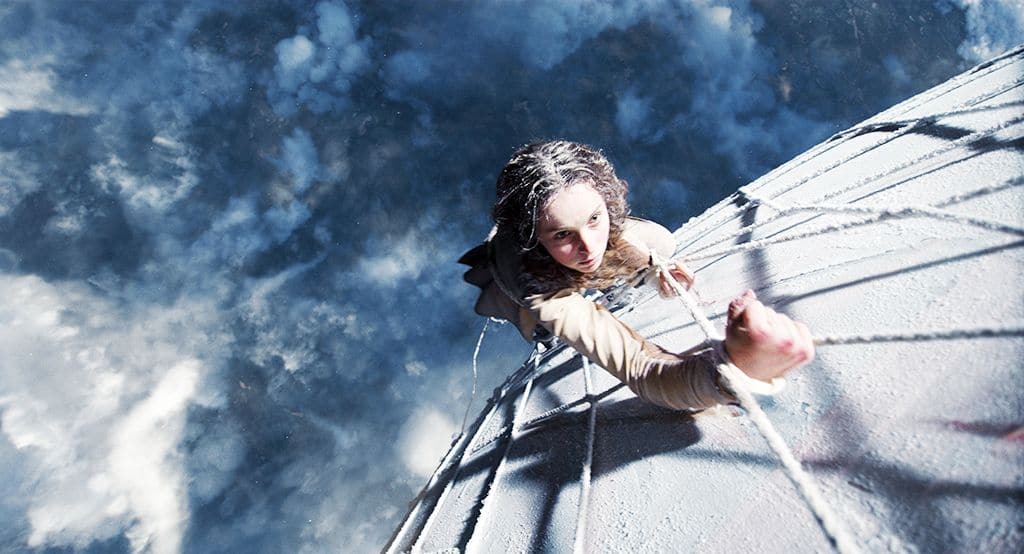 10 Hidden Gems of Hollywood You Should Watch Once in Your Life
1. Snowpiercer (2013)
If there is any movie with stunning camera work, great visuals and a nice plot that can teach you many important life lessons without boring for even a second then its Snowpiercer. You won't even blink your eyes while watching this movie.
The concept of movies is the problems increases with an increase in wealth inequality in the world. The direct has injected the entire world inside a running train where poor peoples are considered as shoes.
2. Hardcore Henry (2015)
This sci-fi action movie is going to be completely different for you. Unlike other movies it is shot from the first-person perspective, it will give you gaming experience. This movie is full of action scenes that will not even give you a chance to blink your eye.
As the movie is in FPP you will not see the scenes rather you will experience them.
3. The Aeronauts (2019)
This survival Adventure/Action drama movie is a visual treat to the eyes. This movie will surely inspire and surprise you with its heartbreaking visuals.
A widow and a scientist go in the mission to break the world record to get to touch sky in a balloon. This is the best-hidden gem movie I have recently watched.
4. The Ruins (2008)
Though this movie is the oldest in our list I think it's one of the most underrated Horror/Thriller movies to watch once.
A group of friends is on an archaeological holiday in a forest in Mexico where things start to go very bad and horrific. The visuals of movies are completely disturbing so I won't suggest teenagers watch the movie.
5. Escape Room (2019)
This Thriller/Sci-fi movie will initially put you in a dilemma to actually watch or not but after watching for a few minutes you will get into the movie. The puzzles of the movie are quite interesting, they don't feel wired in any aspects.
Six people from different walks are placed in an escape room competition where puzzles are to be solved as fast as possible. If you have watched Saw then this movie will be a bit disappointed but will surely thrill you a lot.
6. The Walk (2015)
A movie based on a real story where a street performer dreams and struggles to tie a rope between the Twin Towers of the World Trade Center in New York and walk on it.
Outstanding visual effects and thrilling scenes make the movie to watch once in a lifetime. When Philippe Petit walks on the rope you won't even breathe.
7. Hush (2016)
I don't have any words to explain the beauty of this Horror/Thriller movie. Even though there is not much to listen but each and every scene of the movie is filled with the great thriller. I assure you that you will be completely surprised after watching this movie.
The story of the movie is all about how a girl who can neither speak nor listen saves herself from a crazy, out of mind-killer.
8. 12 Years a Slave (2013)
This movie might not be a hidden Gem as most of you have already watched it but the greatness of this movie forced me to put in the list. Still, if you haven't watched this movie then I think this should be the first movie you should watch from our list.
The best thing about the movie is this movie will give you travel back to 1853.The strong and serious vibes conveying the message of the slave trade in 19th-century points directly the presence of slavery sign in the present era.
9. The Shallows(2016)
Sometimes a high budget movie can also disappoint us whereas a low budget movie can give better-watching experience and I think this survival/thriller movie is one of them. This is the most underrated and the best movie I have ever seen. The best cinematography combined with great camera work makes this movie visually stunning. Even underwater shots are unimaginable.
A young woman travels to a beach where she gets completely trapped while surfing. She is just 200 yards away from the shore but a giant shark is blocking her way out of the stone.
10. The Call (2013)
The call is an amazing crime thriller movie with a heavy thriller. The movie gets much and more interesting during its final stretch.
Jorden gets a call on 911 and a girl is being kidnapped, she is trapped in the trunk of a car with a mobile phone. The story of the movie is so fascinating that it won't give you time for a break.
So, that was it. I wanted to add Get Out movie to the list but I preferred to replace it with The Call. You can also watch Get Out. It's a good movie.
10 Underrated Hollywood Movies You Need to Watch Before You Die!!!.
Not every movie gets commercial success besides its high-quality content and engaging runtime. While some movies get all of the hype, some pass under the radar and don't get quite the attention they deserved. Reasons might be a lot but we aren't here to discuss them. Life is short, we don't have enough time to invest it all in movies but it's very important to find a movie that values your time and suits your interest. The movies are capable of driving you completely to their world.
This is the list of best underrated hidden gems of Hollywood so far. Some of these might disappoint you a bit as they fall in the category of underrated movies. That was the reason I suggested you to check our previous list(above????).
Underrated Hollywood Movies to Watch once
11. Upgrade (2018)
Upgrade is a low budget masterpiece. If you love science fiction movies you must watch Upgrade, at least once. If you love watching next level movies with cybernetic World, future technology where almost every activity are performed by Artificial Intelligence (AI stuff) then this is a must-watch for you.
When I watched this movie, I never felt (for even once), it was made with only $3 million budget. It's an extremely thought-provoking sci-fi action thriller movie filled with a lot of twists and turns.
From my point of view, it's a bit underrated by IMDB, as it deserves at least an 8.5 rating(has around 90% like as by google users).????
12. Ralph : Breaks the internet (2018)
According to a scientific study, It was observed that watching Animated series and movies helps people in fighting depression and anxiety. While we watch animated movies or series it releases a special type of enzyme that gives us relief.
Okk! Enough of science stuff let's talk about movie now…
Unlike upgrade, it's not a low budget movie. Ralph Breaks the Internet has got great humor, plot, twists, animation and is a thoroughly visual treat. In one word it's a story about the meaning of friendships in today's world connected through the internet.
I would pretty much suggest you must watch it once but please don't judge the movie by watching the trailer. It's a good one.
13. District 9 (2009)
Unlike other Alien movies, District 9 is a counterpart to all of 'em. Whereas almost every movie present Aliens as a threat to humanity this movie comes with a unique concept where aliens are being forced by Humans against their will.
Don't you think this is true and could happen if we ever found Aliens? besides Us– The Aliens of Cinema.
This is what humanity would do if they are capable. This is how we are… Selfish and this is our true nature.
There shouldn't be any doubt in experiencing this science fiction movie, at least for once.
14. Doctor sleep (2019)
Nothing much to talk about in the movie, you can get an idea about the depth by just watching the trailer.
Apart from the other movies, it's a physiological horror movie which makes it unique and a must-watch among all the movies.
I am damn sure you won't stop thinking after watching this movie, hits right into the subconscious.
15. Happy death day (2017)
Imagine you are being killed but you wake up again in the same morning to get killed again. The movie is entirely based on something like that.
The dark comedy, recurring death, repeating day and mystery killer makes this movie a good watch for teenager.
Also, it has got a sequel, isn't that awesome though?
16. Buried (2010)
Now, here comes my favorite, A beyond movie.
A unique 1-hour 30-minute plot where a man is buried alive in a coffin with a lighter and a phone(A Nokia one ) struggling to make out of there alive. The person even doesn't know who buried him, Why and where, the only thing he can do is to call 911.
Throughout the whole movie I was imagining( thinking) what would I do if something like this happened to me and which makes it more interesting and relatable while watching.
Okay, I have tried hard enough to convince you just Watch it, you will definitely like it. A Bollywood movie has also been made with a similar concept (but a room instead of a coffin) named Trapped.
17. Okja (2017)
I love Animals, and I think everyone loves animals, not all animals but we like most of them, still, we kill them for our food.
The movie is based on a similar concept, a girl risks everything(even life) to save his best friend, a gigantic animal pig.
The visual shots, the chemistry between the girl and pig, the physics between company and pig keeps the storyline interesting and watchable for you if you think it deserves your time.
At least you can watch the trailer, probably your mind gets changed.
18. No Escape (2015)
I think the trailer is enough for someone to decide whether it's your type or out of you kind. But I am quite sure that this movie will make you realize how much parents love their children.
A really good story, you should watch it once, don't judge it with an IMDB rating or by it's budget.
19. Stardust (2007)
Who doesn't love to watch high budget adventure movies filled with romance and all that stuff? Well, most of the peoples like such movie these days special, when such movie gets released the hall get filled by couples.
It doesn't fall in the category of underrated (that's what I think) but as it was released in 2007, I thought to include it considering you might have not watched it.
It's a great movie, so just go and watch it once but before check out the trailer once to make sure it falls in your kind.
20. The Perks of Being a Wallflower (2012)
The names very long, for me hard to even remember. But, the movies with unique plot and concept are always back in there on our mind, we can't forget them.
The movie doesn't fall on the underrated part but considering the same reason I mentioned above I included this.
It is also a romantic movie and hope you will like it.
Final Words – May the Force be With You!!!
Hope you liked my picks for the best underrated movie so far. If you got a movie geek buddy make sure to share it with him.
Comment down which is your best movie [Underrated] or a TV series or something we Forgot to list.
If you have any queries or disagree with or list or anything you would like to say comment down below.