7 Top Bollywood Action Movies of 2013: We say Various type of movies with the very best story-line direction and choreography.I think 2013 was a good year for the action movies. The year was commercial success for the biographical movies and Action/Thriller movies.   Though some of the movies commercial succeed but were unable to win the heart of audiences. This might be because of the way majority of Indian audience prefers to watch movies having high budget and the high paid actors.   Anyway as  it is our job to count down the best Bollywood movies of 2013. Therefore ,We have come up with the list of some of the best action  adventure,action comedy, action thriller Bollywood movies  of 2013.  Our list of 7 top Bollywood action movies of 2013 is based on critics rating, IMDB rating , Rotten tomatoes rating,how much the movie succeed in  entertaining the audiences and also the ratio of box office collection to the budget of movie.   For this list of  best 7 Bollywood action movies of 2013  i have decided to not include the movies which were commercially success at box office but were unable to provide  engaging story-line as well as good direction.   The list mostly contains movies that were liked by audience and the critics.
List of Top 7 Bollywood Action Movies of 2013
1. Bhaag Milkha Bhaag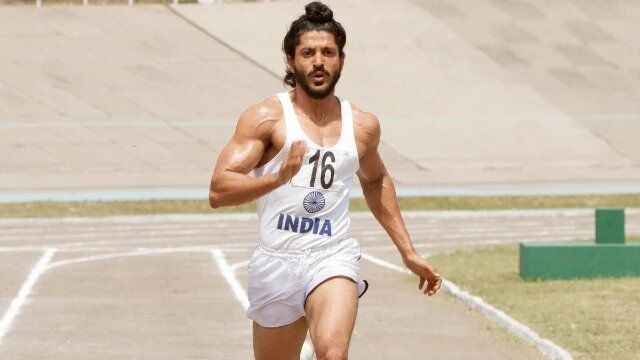 Runtime:- 3h 9m
Release date: 11 July 2013
Bhaag Milkha Bhaag a movie based on the Book The Race of My Life by Milkha Singh directed by Rakeysh Omprakash Mehra is autobiography of Indian athlete Milkha Singh. It is all about how an Indian athlete Milkha Singh overcomes many agonizing obstacles in order to become a world champion. With IMDb rating of 8.2 out of 10 Bhaag Milkha Bhaag is the most loved as well as commercially hit movie with Box office collection of about ₹2.1 billion. The movie was liked by almost 94% of Google users and i will definitely suggest you to watch movie right now.The movie is available on Disney as well as Hotstar.
2. Special 26
Runtime:- 2h 24m
Box office: est. ₹126 crore
How could you have imagined list of top movies without one movie of Akshay Kumar. The movie is based on how a team of tricksters pose as CBI officers and conducts raids to rob politicians and businessmen black money. The movie is well directed by Neeraj Pandey and acting of Anupam Khers and Manoj bajpayee makes the movie real gold. The movie has got IMDb rating of 8/10 and were liked by 93% of Google users.You can watch this movie in YouTube and Google Play Movies & TV.
3. D-Day
Runtime:- 2h 33m
Box office: 40 crores INR
D-Day is a action thriller movie Directed by Nikkhil Advani where a team of highly-trained officers are set to nab Goldman, one of India's most wanted terrorists.However, their mission is threatened by a minor miscalculation. The movie has got IMDb rating of 7.2/10 and were liked by 91% Google users.The movie wined Zee Cine Award for Best Editing and i will suggest to feel thriller and action of the movie once.
4. Madras Cafe
Runtime:- 2h 10m
Release date: 23 August 2013
Madras Cafe is a political Thriller action movie directed by Shoojit Sircar succeeded in winning heart of almost all audiences and collected 110 crores. The movie has IMDb rating of 7.7/10 and were liked by almost 94% of google users.The action, adventure ,war, thriller of movie makes it watchable for at least once.You can easily watch movie on YouTube.
5. Aurangzeb
Runtime:- 2h 17m
Release date: 17 May 2013
Aurangzeb is another thriller action movie of the list.The movie is directed by Atul Sabharwal and collected ₹35 crore at Box office which might be the low collection but the very best direction and story-line makes the movie deserving on the list. The movie got IMDb rating of 6.5/10 and was liked by 84% of google users. The movie was awarded with IIFA for Best Performance in a Negative Role.You can watch the movie once with no big expectations on YouTube.
6. Chennai Express
Runtime:- 2h 21m
Box office: 423 crores INR
Everyone likes action comedy movies with a bit of romance on it and Chennai Express is the only one in the list.The movie story is really engaging and action scenes are well directed. The movie has got IMDb rating of 6/10 and was liked by almost 90% of google users.You can definitely watch this movie without worrying about you time.
7. Krrish 3
Runtime:- 2h 32m
Box office: ₹393.37 crore
I don't think I have to say anything about the Krrish movie series.Though Krissh 3 is not as much as good as its previous installments but it will keep you engaging.Also the action scenes are watchable and is only one sci-fi action movie of 2013. So, if you have watched its previous parts go for it otherwise you can watch its previous parts
---
That was it. If you think we have missed out any best Bollywood Action Movies of 2013 or you are unsatisfied with our top 7 list of Bollywood Action movies do not hesitate to comment down below.